Connect the bench equipment as shown in Figure, and turn on the HART-based communicator by pressing the ON/OFF key. The communicator will search for a HART-compatible device and will indicate when the connection is made. If the communicator fails to connect, it will indicate that no device was found.
Measuring object: liquid, gas and steam
Measuring range: 0~0.1kPa to 0~40MPa
Output signal: 4~20mA DC+HART protocol
Power supply: 12~45V DC, generally 24V DC
Range and null point: adjustable
Humidity: relative humidity 5~95%
Converter housing: Low copper cast aluminum alloy with Polyurethane paint
Fill Fluid: Silicon / Fluorine Oil
Process Connections: 1/2NPT, 1/4NPT
Maximum positive shift is 500% of minimum adjusting span; maximum negative shift is 600% of minimum adjusting span.
Drains/Vents: Stainless Steel 316/Monel / Haste alloy
Diagrams: Stainless Steel 316/Monel /Haste alloy C/ Tantalum
Wetted O-Ring: Viton/ Buna-N
Seal O-Ring: Viton/ Buna-N
Bolts & Nuts: Carton Steel/Stainless Steel316
POWER SUPPLY LOAD LIMITATIONS, 4–20 MA TRANSMITTERS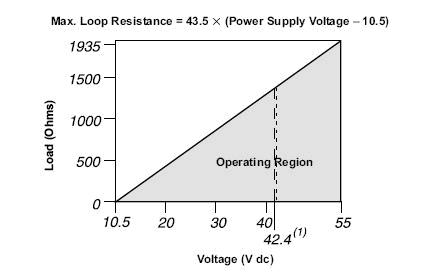 Flange Pressure Transmitter

Smart 4-20mA+HART Protocol

Size of Flange(Flat and Insert), Material of Diaphragm on Flange

Length of Insert Tube (mm)

Material of Diaphragm on Flange